Best Hard Wax Beans & Beads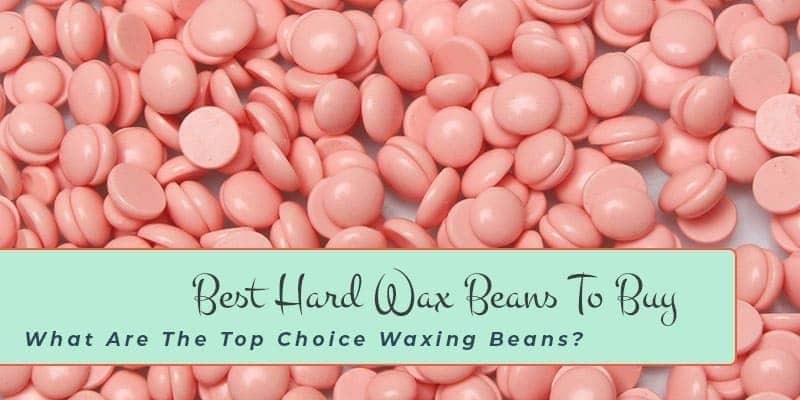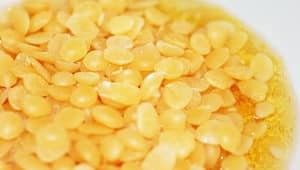 Lots of people have lots of questions about what is the best hard wax beans to buy and how to use them properly. In this review and comparison, I will try to go over at all the most popular waxing beads on the market today to help you make an informed decision when choosing your next depilatory product.
I tried to answer a few questions as well so bear with me when we go on a quest to find the best beans and is hard wax worth it in general for home use and hair removal. Here we go!
What Are The Best Hard Wax Beads & Beans?
So let's take a look at the best waxing beans to buy and how they stack against each other. Let's take a look at the best beads:
1. Satin Smooth Calendula – Best For Professional Waxing Salons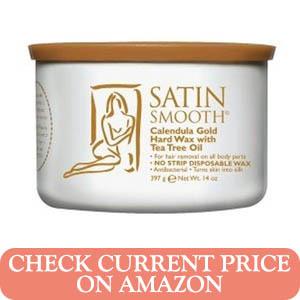 Satin Smooth is a big household name in the waxing world if so to speak. They are made by BaByliss and they are the go-to beans for most professional salons around the world. It is a high-quality hard product with a bit of a premium price tag.
You have to be careful when buying a Satin Smooth product since they sell both hard and soft wax and it is easy to make a mistake.
The soft one will need a waxing strip in order to remove the hair from your skin and it doesn't really qualify as hard beans. When purchasing, make sure that you are purchasing hard wax beans and not a paste, as they like to call it.
The other thing to look for is counterfeit products on Amazon and other stores. Satin Smooth is a proven cosmetic product made by a company with a solid reputation so there are a lot of fake products sold under the Babyliss name. There are more than a few reports on Amazon and other marketplaces that people haven't exactly received what they paid for so always keep it in mind when shopping online for Satin Smooth products. 
There are almost countless variations of the waxing beads when it comes to flavor and scent. Arnica, Coconut, and Calendula with Tea Tree seem to be amongst the most popular ones out there.
While it is one of the fastest heating products out there, in my experience it is amongst the fastest drying too. When I tried it on my skin I had to be very quick applying it, otherwise, it will harden too quick and no be able to attach to the hair that needs pulling That's not a bad thing per se, just something to keep in mind when using it.
As always, try any wax on a small area before applying it to major areas just to be safe that there won't be any allergic or other reactions to the skin.  It doesn't seem to be 100% natural like the Wokaar and the Blue Zoo products above, but we couldn't find any reports of allergic reactions or anything scary online so it seems like a safe product to use.
Overall, Satin Smooth is a household name product with proven quality. You have to be aware that there are counterfeit products so be careful buying Satin Smooth products online. It is sold in different packages in different markets, but predominantly it is sold in 14 oz or 24 oz
2. Kolua – Best Depilatory Wax For Full Bikini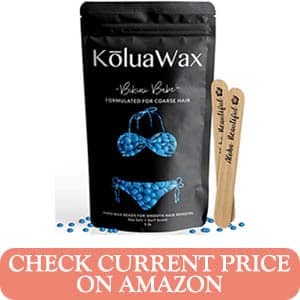 The second contender on our list, after Satin Smooth, is the hard beans made by Kolua, although I've seen the same beads sold under a few different names – Femirowax, etc… The origin is a bit muddy, to be honest.
They come in three flavors, if so to speak – lavender, rose, and tea tree. Besides the different aromas, there is no real-life difference between the three variations of these beads.
The Kolua is easy to apply and easy to melt. You can melt it in a dedicated warmer or simply by using your stove. It says that you can easily melt it in the microwave as well but people reported crumbliness and stringy results afterward, but that might've been a bad batch since we couldn't replicate the results.
In our tests, it melted just fine in the microwave and it was just as easy to apply and remove as it was from the warmer.
So while it all sounds fine and dandy, there are a few negative reports about the Kolua blue beans. Nothing scary or enough to put us off from trying, but a few people reported crumbly results after drying. That shouldn't be the case ever since it makes it incredibly hard to remove hair afterward.
Another thing is that it goes pretty quickly and a single bag of it might not be enough for even a full leg application. It means that you'll need to buy quite a few packs in order to do a full leg wax and it might add to the cost significantly.
Overall the Kolua is a decent quality blue beans that get the job done, keeping budget within reason. It is fine for sensitive skin, but as always the case – test small before applying big.
3. Wokaar Kit – Best For Home Use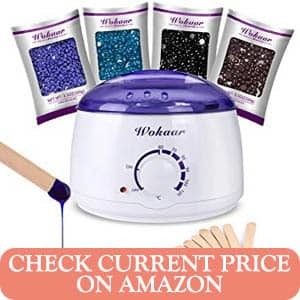 The Wokaar brand wax beans are usually bundled with their own brand of a kit warmer and it might be a good idea to purchase them together since there is a much-added value in the bundle – there are a few wooden spatulas included, several different flavored hard beans and whatnot.
The warmer is one of the actually good ones out there, but the beans itself are even better. They are made with all-natural ingredients and it should be fine for most people, even those with allergies and other issues.
The Wokaar hard beans come in four different flavors – chamomile, lavender, chocolate and original. The beans offer a very pleasant aroma, at least it did to me, of course. The consistency is rather solid than liquid even when heated up. You can use the kit warmer to warm the beads, but you can also heat them on the stove and in the microwave.
A microwave is usually not recommended for heating as it can break the structure, but if you are really careful with it it might just work. We couldn't find any problems using our microwave, but other people have reported problems with it.
The bags are pretty big as they come in 10.6 oz packs, much bigger than the Kolua beads above that come in only 3.2 oz packs. A single pack should be enough for removing the hair from a single leg, even two if you are careful and don't over-apply it.
Overall, it is a solid choice for most people – it is a pleasure to use all-natural wax beads that offer excellent value for money if you purchase them with the bundled warmer. Highly recommended.
4. AuperWel Beads – Best For Face Waxing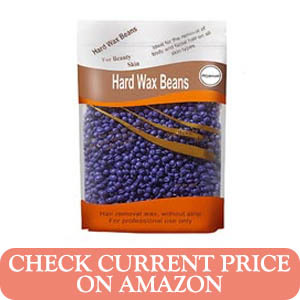 Auperwel is just one of the names these beads can be found sold under these days. There are at least six or seven different brands selling these identical beads going across the front plastic case, but make no mistake – it is a quality product despite the crisis of identity with its branding. 
The beans come in two distinct flavors – chamomile and lavender, pretty common for most hard beads sold today. Both "flavors" are nice and not overwhelming in smell – they will not take over the room atmosphere with that distinct waxing saloon smell we all know.
The beads are made with all-natural ingredients and it should not cause any allergies or reactions with your skin. Of course, it is always best to test on a small patch of skin before applying to prevent any major issues if indeed you have any wax-associated allergies. It is recommended for people with sensitive skin as it is a bit more elastic and soft to the touch than the products listed above. It can be applied to a thinner film and it still won't break when pulled away from the skin.
The Auperwel beans are compatible with any warming device – you can use a dedicated warmer, heat them on the stove or even use the microwave – it all works just fine. We couldn't find any reports of deterioration by using any of the heating methods so it should be all good, despite which method you prefer. We tried them all and we couldn't find any problems, the beads worked about the same and didn't matter whether we heated it on the stove, in the microwave, or in the warmer. 
Overall it is a quality waxing product that should be OK for most people, even those with sensitive skin.
5. White Tea By Waxness – Best For Bikini And Pubic Hair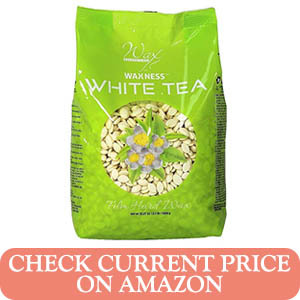 Waxness White Tea is a relatively new player on the market but a good one nevertheless. They have their own branded kit with a warmer and all that. Actually, we recommend the kit highly since you can get a much better deal buying the kit rather than the beans on their own.
These beans come in a few different "flavors", all colored in their respective scent, but we prefer the white tea over the rest of them – just smells and feels better on the skin.  Lots of people report that the scent is quite similar between all three models and some people claim that the scent is not the most pleasant one – more like a typical hair removal salon smell.
When I tried the Waxness White Tea I couldn't feel any wrong smells or anything like that, but I personally only tried the lavender and it actually smelled like lavender and there were no unpleasant smells as far as I could tell. It could've been a bad batch or something, not quite sure what to make of it.
The Waxness beans come in relatively plain large bags, much like regular beans do. They are easy to open and store and they contain around a full pound of beads. That should be more than enough for most applications – I managed to get both my legs done with a single pack and I had some leftover after the procedure. Keep in mind that if it is your first time using a hard wax you might use a bit more than expected till you get the hang of it – it needs some getting used to.
The manufacturers suggest that we use a kit warmer to heat the beans in order to get the best results and I have to agree – I couldn't get the best results using my stove to heat it in hot water. Microwaving was fine, but the texture became a bit stringy if I can say that.
Overall, the Waxness White Tea seems like a great waxing product at a decent price. It is an all-natural wax so there should be no allergy issues, but always try it on a small spot before using to avoid any issues and to see how it works for you before proceeding.
6. Lansley – The Best Melting Beans For Body Hair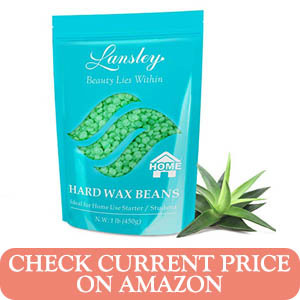 Lansley Aloe waxing beans has been one of the best selling products on Amazon for the last few years and there must be a reason for it.
The Lansley green Aloe beads have a somewhat lower melting point – they usually turn liquid once they reach around 131 degrees ( 55C ) which is lower compared than most other beads that melt at 140 degrees. They don't set too quickly like the Satin Smooth mentioned above so you should have plenty of time spreading it on your skin.
They are 100% natural hard wax beans and even people with allergic reactions should be able to use them without any issues. It worked just as well as other waxes I tried on this review list and I can't really find any faults with it. The added bonus of quick heating to application time was very nice as I didn't have to waste too much time waiting for it to melt.
The Lansley beans come in a single flavor only – the almighty Aloe. The scent is not too strong but a rather mild one. It is very pleasant, that if you like lavender, of course. It is a much milder scent than the white tea above, for example.
They are a bit on the pricey side. Amazon sells them quite expensively and you really don't get much for your money – the pack weighs only 10.6 ounces or 300 grams. That should be enough for doing a single leg at a time, but if you want to do both legs at the same time you'll have to spread it really thinly in order to have enough for both legs. For example, the Satin Smooth comes in containers of 14 oz or 24 oz in some markets.  
Overall the Lansley brand is a  very high-quality wax, but it tends to be expensive in the long run. It also doesn't come with its own branded warmer which makes the value even less competitive.
7. Yansu Waxing Beans – Best For Budget And Home Use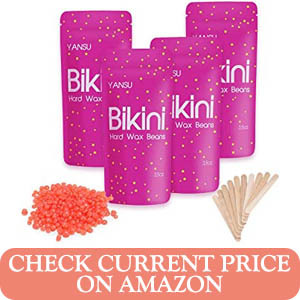 Yansu hard wax beans are another relatively new brand on the market. Regardless of its inexperience in the game, it offers a great quality product that is highly recommended for people who have not experienced waxing before, I included, of course.
It comes in four separate scents – Lavender, Chamomile, Aloe Vera and Original flavor, whatever that is. I tried lavender and chamomile and they were pretty nice – not too strong but enough to mask the typical salon flavor that most waxes have. The lavender was actually a bit better than the chamomile but that is a personal preference – some people like the chamomile better.
It melts at 140F ( 60C ), typical for most beads on the market. It doesn't feel too quick compared to the Lansley brand above, pretty average overall. In a matter of fact, it actually feels a bit inferior to the Gigi too – the consistency is not as smooth as the Purean but it does the job well enough. The Hair removal performance is on par with the rest of the beads in this list – not better but certainly no worse than most. When I tested it, it managed to remove most of the hair on my leg in just one go.
Value for money is pretty good – it comes in 10.5 oz packs but the bundled warmer makes it a great deal. Since it is a hard wax you don't need to buy any strips or cellophane patches – you just rip it off your skin and off the hair goes. The bundled warmer is good quality, but pretty much it is the same white-label warmer most companies rebrand under their own name.
Overall it is a high-quality product for a decent price. They claim to have some pain-reducing agents but I didn't find any difference using it compared to any other beads on this list. It is a good choice at a decent price.
8. GiGi Hard Wax – Best For Full Brazillian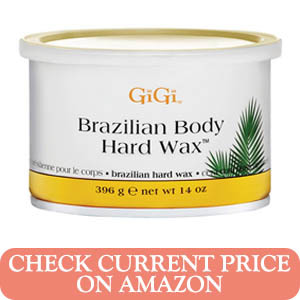 GiGi is another popular brand and there is a reason for it – it is a very good one at a reasonable price. GiGi is quite popular amongst beginner "waxers" too because it is easy to use and removes hair seemingly without effort.
There are a few reports about it being crumbly when pulling out and I managed to replicate the problem too. There seems to be a turning point at about 15 seconds into drying that turns the wax into an almost unusable product. What you need to do to prevent that is to pull it out off your skin prior to that hardening point.
I discovered that if I left it on my skin for more than 15 seconds after application it wouldn't perform as good as before 15 seconds. The ideal time for me was between 5 and 10 seconds when it is still warm but not runny enough to not pull any hairs if it makes any sense. Wait too long and the elasticity is gone and it might crumble in your hands.
Besides that, GiGi is a high-quality product that is used in many professional salons. Maybe not as popular as the Satin Smooth mentioned a few paragraphs back, but still a solid choice for many pro salons. Gigi makes both hard and soft wax so you need to be careful not to buy a soft one if you indeed decide to try hard beans.
Melting point is about the same as most beads on this list – it turns liquid at around 60 degrees Celsius. It does seem to take a bit longer to heat sometimes, especially if you are not using the GiGi warmer. There are reports of people heating it in boiling water and it works fine, but I didn't have a chance to see how that works.
GiGi sells specially formulated for microwave heating which can be useful for people who don't want to invest in a dedicated warmer. It is a bit more expensive, though, and when I tried the original GiGi it worked just fine in the microwave as well. The pack could be a marketing gimmick, not too sure about it. 
Value for money is on par with the rest of the products on this list. The containers come in 14 oz sizes and contain enough beans for a single waxing session for both legs. Maybe not enough for the first time, but once you get the hang of it it should be more than enough.
Overall it feels like a well-designed product that is used a lot in professional salons around the world. Value for money feels alright too so I can definitely recommend the GiGi product to most people out there.
Frequently Asked Questions
Before I went on my wax-discovering quest to try them all and compile this list, I had a lot of questions about waxing in general. Let's take a look at the most frequently asked questions about it and what does it do and it doesn't do. There are a lot of misconceptions in general and I'll try to clear the air about it as much as I can, all based on personal experience.
What Are Hard Wax Beans?
Hard wax beans (also known as beads or pellets) are made of special formula that once heated it melts into the familiarly wax we all know from beauty salons and hair removal studios.
Hard waxing is basically heating the wax beads to a liquid state before application and then waiting for it to harden before you pull it off along with any hair attached to it. It is quite painless when done properly and it works wonders for keeping hair off your legs for prolonged periods of time. It is quite safe too when following safety guidelines and it is easy to avoid the most common mistakes.
What is the difference between hard wax and soft wax?
The main difference between hard and soft wax lies in the application and the hair removal process. Hard wax needs to be heated thoroughly while soft wax's natural stated is near liquid. Hard wax can work without waxing strips while soft wax requires them.
Soft doesn't need to be heated as much as hard beans in general and it needs a muslin strip to be removed from your body. It is usually applied with a spatula and it is most suitable for large areas of your body such as arms, legs, and armpits.
Hard wax beads, on the other hand, needs to be heated in order to liquify it. It doesn't need any strips for application, but spatulas are a must - it is usually quite warm to apply by hand. Instead of yanking the strip you remove the whole piece along with all the hair attached to it.
Is Using Hard Wax Beans Painful?
According to many people, hard waxing is pretty painless when done properly. As we mentioned above, you have to wait for it to cool down significantly before applying and you have to be very careful not to burn yourself. The main benefit of using a it is that there are no strips that can rip your skin off if not careful.
It is gentle to your skin and if used properly the process is virtually pain-free. All you have to do is rip the wax off your skin with one swift motion against the grain of your hair. Eazy peazy and pain-free! Just make sure you apply it to a small patch and test it before applying it to large areas of your body.
Is Hard Wax Better For Brazilian And Pubic Hair?
Yes, we do think hard wax is better for Brazillian and pubic hair, but that will depend on the type of job required, your skill level, and your skin condition It can work great if you are experienced with it and you know how to make it work for you. It is better for a Brazilian too. See, many salons hate the hard state, but in my experience, it is due mostly to two reasons - it is more expensive than soft one and it takes more skill to work it properly.
Of course, salons will prefer to keep the cost down so they have less overhead and make more money. They claim that it hurts more but that couldn't be further away from the truth. In reality, soft wax causes more ingrown hair than hard one due to the more unnatural plucking of the hair.
Usually, the golden rule for salons is to use melted beans for small areas like armpits and intimate parts and do the soft one on large areas like legs and arm to save some money. Of course, that is my own opinion and experience.
Is Hard Wax Better Than Depilatory Creams?
Yes, hard wax is better than depilatory creams. It is easier to use, there are no harmful chemicals that can burn your skin and it is much cheaper to use.
I really don't like depilatory creams - in my opinion, they burn your skin if you leave them for too long and they don't necessarily remove hair than any wax, be it soft or a hard one. Yes, they might be pain-free and relatively easy to use, but not following directions can cause some really nasty chemical burns.
Hard beads, on the other hand, are pretty safe in most case, even if you put it on while it's warmer than usual. Just make sure it's not boiling or something. It is even less irritating than soft wax as it causes less ingrown hair than the soft one.
Is Hard Wax Safe To Use?
Yes, hard wax is very safe as long as you follow the instructions that come with it very carefully.
Yes, overall you shouldn't be afraid of them if you follow a few simple rules. Here they are:
Make sure you are not allergic to it

Always test on a small patch of skin before applying it to large areas

Make sure it is not too hot (again, test on a small patch of skin)
Following these general rules will ensure safe and enjoyable waxing experience. If you are not comfortable doing it yourself you can always visit your local hair removal salon, of course.
You shouldn't be afraid, though - it is perfectly safe for most people. Waxing kits usually have lengthy manuals about what's the safe temperature and proper application to ensure great results. If you follow the three simple rules above you should have no issues using any of the hair removal beans mentioned below.
Can I Use Hard Wax On My Face?
Yes, you can use hard wax on your face. Actually, it is best when used in small patches - it can be used more accurately than soft one, for example, and it is perfect for sensitive skin, like one's face, for example.
Of course, you have to be careful not to apply when it's too hot on your face since your skin is a bit more sensitive and it is easier to burn yourself. It is usually safer for people with allergies and it is the perfect product to use for removing unwanted facial hair. The best way to keep the temperature within safe limits to use on your face is to use a proper warmer - microwaves or stoves can easily make it scalding hot. We don't want that. At all!!!
Is Hard Wax Reusable After Melting?
Yes! It is perfectly safe to reuse unused melted wax if that makes any sense. Of course, you have to dispose of any that has been used already for hair removal. In case you've heated more than needed and you have some leftover, it is quite alright to reuse it in your next waxing session. It doesn't go bad so there is virtually no expiration date - you can heat it and cool it as much as you like - it doesn't spoil from sitting around.
Final Words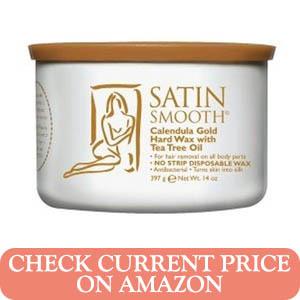 I really hope that this article helped you in a way in your quest on finding the best hard wax beans to buy. I really tried them all, at least the ones on the list, of course. In my experience, the Wokaar kit was the best value for money – a good warmer with quality beans. No wonder it is amongst the best selling waxing kits on the market. Second I rate the Satin Smooth and the GiGi products, although they don't seem like they are 100% natural products – at least it doesn't state so on any of the packaging.
I hope that this list can make you form an educated choice when buying your hard wax beans and good luck with using them – it'll take some practice before you master the process!