Best Wax Warmer – Top 10 Kits To Get This Year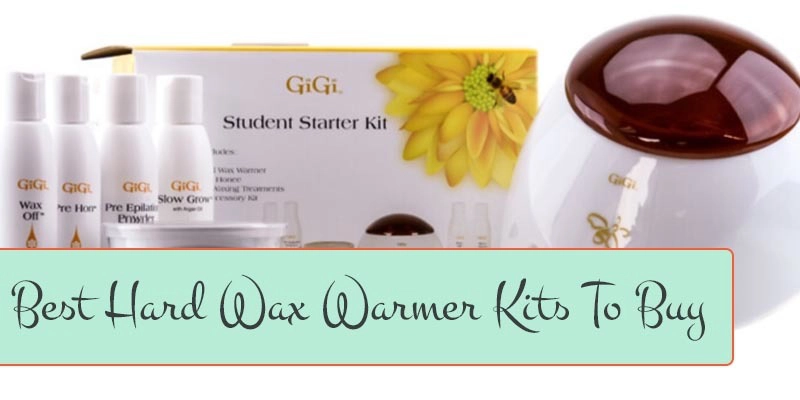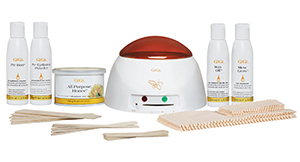 Waxing at home is becoming more and more popular and for a very good reason too. It is much more convenient, far less expensive, and best of all, the results are very much the same as the high-end salons that usually cost an arm and a leg. With the advancement of technology, hard wax kits and warmers can do an excellent job of getting rid of unwanted hair in the comfort of your own home.
Of course, they are not for everyone, and initially, they are not that easy to use. I have to admit, there is a bit of a learning curve, but once you get the hang of it, everything is smooth sailing from then on. 
Let's get to know more about hard wax warmers and how they can make your life easier and free from unwanted hair.
How to Choose An Electric Wax Heater Kit?
Now that we pointed out what is a hard wax heater and why you need one, let's take a look at what to look for when choosing the best one for your needs. Here are the most important features the best warmers that are really worth the money should have: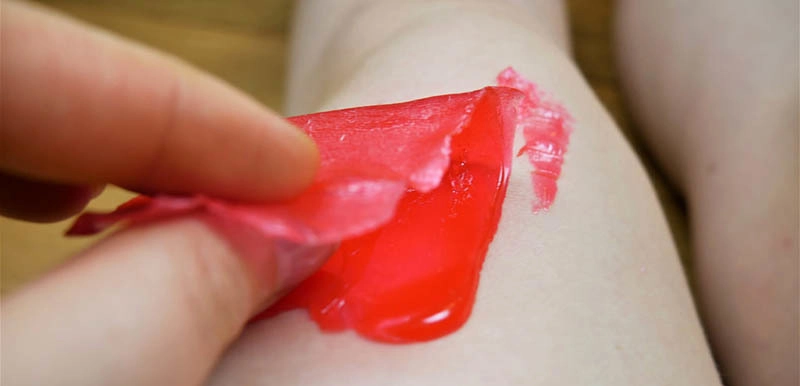 Heating Temperature and Control
Wax warmers come with different heating temperatures and controls. Some have three heat settings – low, medium, and high. You can use that to heat the most different types and amount of wax. It is ideal when you want to heat a small amount to use it on your face or lips/mustache area.
Capacity
Most home wax warmers can accommodate from 8 to 14 ounces of hot wax. This pot capacity should be sufficient for waxing your whole body, or at least most of it. There are heating pots that come with a just a 5-ounce capacity, but to get the most of your hair out in one go, the 14-ounce pot is better.
Heating Speed
A good warmer is one that heats up wax quickly. You don't have to wait too long for the machine to melt the beans. The faster it melts, the faster the job will be done.
Wattage And Power
This may not seem really that important, but to be honest – it is. The wattage is also something you need to consider when buying your next wax heating pot. The higher the power, the better the heating performance you get from your machine – see if it has a rapid melt function. It can really speed things up and they are usually easier to clean.
Does It Include Waxing Beans In The Kit And If So – How Much?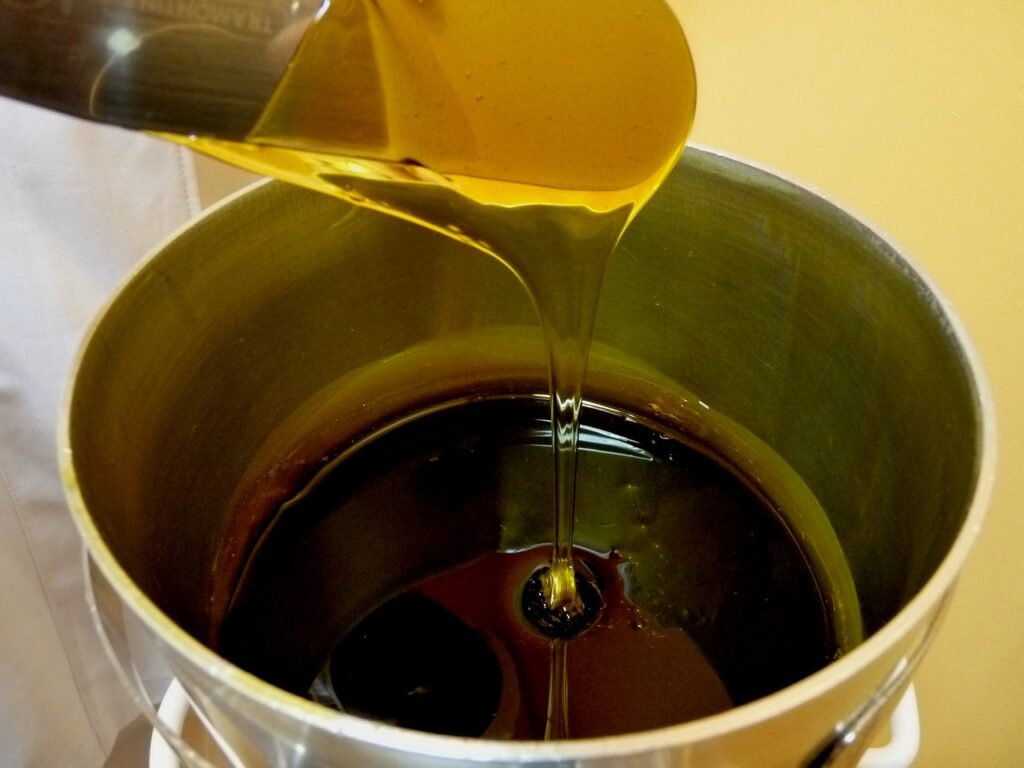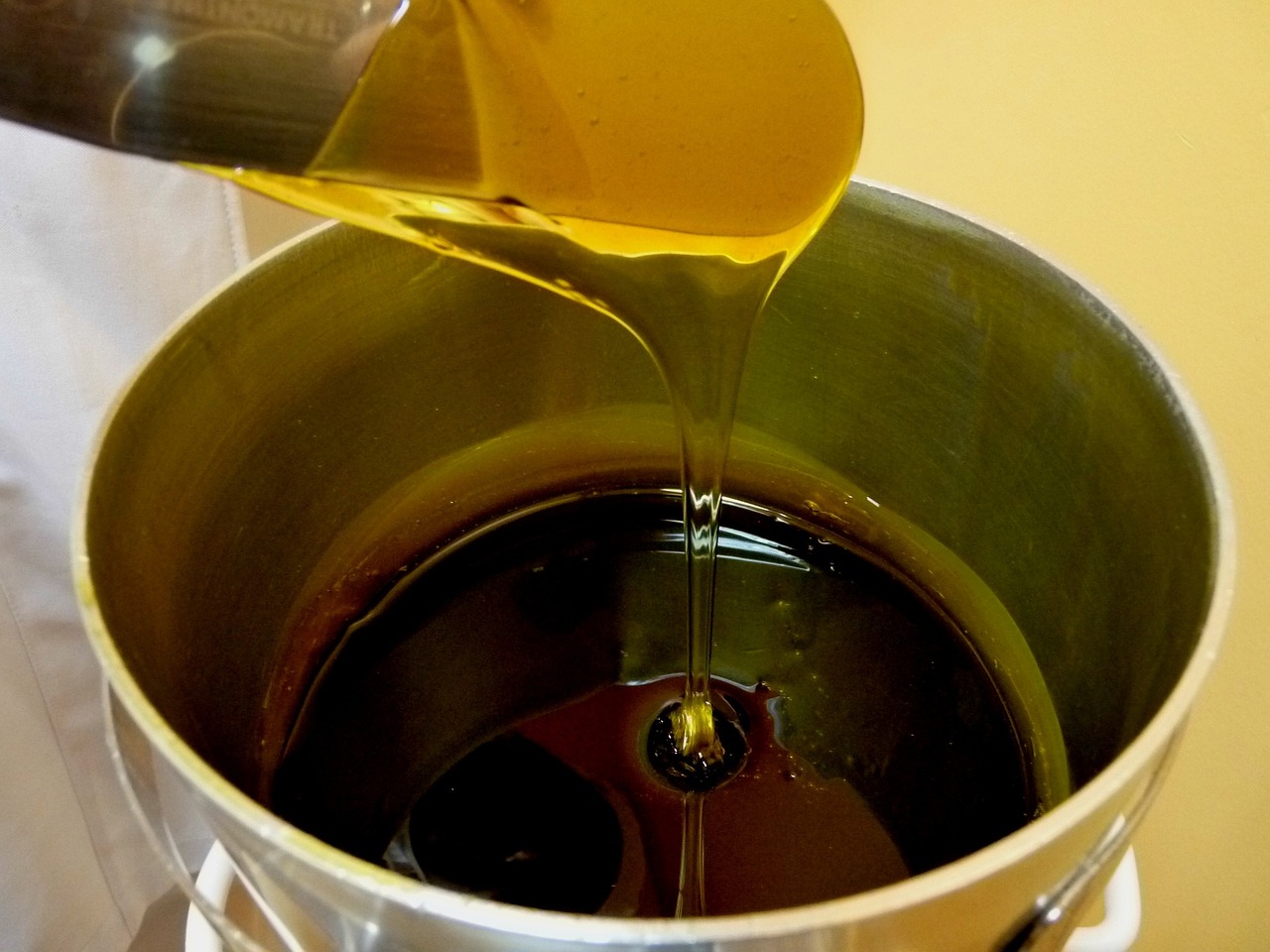 If you do choose an electric wax heater that comes with wax, how much wax is there? This is not just all about getting more bang for your buck. Think of this, you wouldn't want to run out of wax in the middle of a hair removal session if the beans that came with the wax heater aren't enough, right?
Make sure you have enough wax for both legs, your face, the bikini area, and whatever else you need help with.
So let's dig in and find out which are the best wax warmers on the market today:
1. GiGi Student Wax Starter Kit – Editor's Choice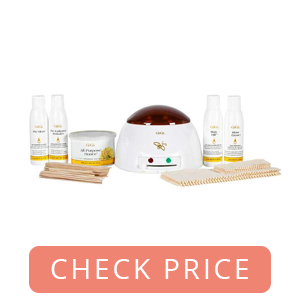 As the name suggests, the GiGi Student Starter Kit is designed with students in mind. It is created specifically for use at home by non-professionals. This kit includes a hot wax warmer, GiGi All Purpose Honee Wax, applicators, muslin strips, and treatments for use before and after each application.
Even though the kit is intended for students learning the hair removing and waxing techniques, it comes in a professional-grade quality pot. Perfect for those who want to learn the trade and become professionals themselves. It has everything you need to learn and get you started whether you want to turn it into a business or for your own personal use.
The warmer heats up moderately fast, usually in thirty minutes or less, so you can start waxing your legs, arms, face, brows, and underarms in no time. It can take up to 14 ounces of melted hard wax and has a user-friendly design and construction for easy operation. Lightweight and compact, the GiGi Student Kit wouldn't take up too much space.
It has three heat settings – low, medium, and high so you can heat a variety of hard and soft waxing beans. It comes with a transparent lid that allows you to see if the wax has already melted and whether it is ready for use. A minor issue we had with the kit is that the wax container is non-removable so cleaning the pot can be a bit difficult. You have to let it heat a bit before attempting to clean it, otherwise, it might prove impossible to take out all of the old wax in it.
The GiGi Student Starter Kit includes Gigi's Pre Hon cleaning lotion, Pre Epilation powder, Wax Off, Slow Grow, petite and small Accu Edge Applicators, and small and large natural muslin strips just in case you need them too.
It comes with everything that you might need for a clean and efficient waxing session at home. It is a bit on the pricey side, but the quality of the GiGi is superb, the wax that comes with it is one of the best on the market so, in my opinion, the GiGi is the best wax warmer for a starter, novice, and experienced waxers. It rapidly melts anything you through for a great hair removal session.
2. Runner-Up – Yeleen Hot Wax Warmer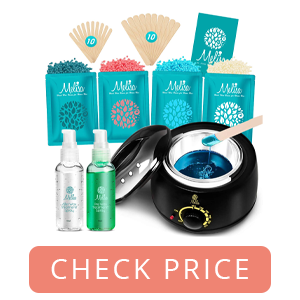 Designed with vibrant purple and stylish looks, Yeleen Hot Wax Warmer offers fast and effective heating and hair removing process. It is easy to operate so you can remove unwanted hair anytime and any day that you choose.
This Yeleen warmer kit includes four different fragrances of hard wax beans, ten applicator sticks, and a well-written user manual.
The Yeleen warmer is a wonder in itself. It is made with a high-quality ABS resin that is perfectly safe to use. This material is nonflammable, hard, and durable – strong enough to last you for years.
The wax warmer can melt most types of wax up to 14 ounces. From hard to soft wax, paraffin wax, and crème wax, this warmer can be used to melt them to match your needs. It comes with a 3-pin plug that is an added safety feature.
You can easily adjust the temperature on the Yeleen unit depending on the task at hand. It offers a temperature control range from 160 F to 240 F and can melt wax beans in just eight minutes! Aside from its non-flammable body, the warmer will automatically shut down when it reaches its max temperature, so there's no worry of burning down your house with the Yeleen wax warmer.
3. Kolua Wax – A Budget Alternative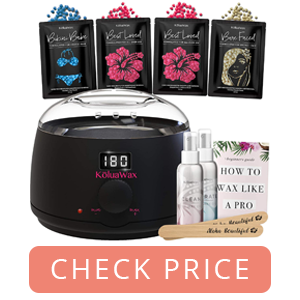 The KoluaWax kit is equipped with a heating element that melts beans in just under ten minutes. Getting rid of unwanted hair has never been this simple, fast, and easy. The Kolua warmer uses temperature control that goes from 160 up to 240 degrees. Perfect for melting a wide variety of waxes for different purposes. It has an automatic shut-off that turns off the heat when it reaches the maximum temperature but will still keep the wax in its melted form.
The JoluaWax warmer has a 16 ounces volume capacity so you can melt enough wax to depilate your whole body in a single session. The wax beans are made from 100% natural ingredients, such as beeswax, paraffin, and hydrogenated coconut. They are FDA approved and are totally non-toxic and chemical-free.
Overall, the KoluaWax kit can help remove unwanted hair efficiently, leaving you with skin that is soft, smooth, and completely hair-free. It is a cost-effective way that gives you the freedom and the convenience of waxing at home for a very affordable price.
4. 

AW Double Pot – Our Choice for Small Salons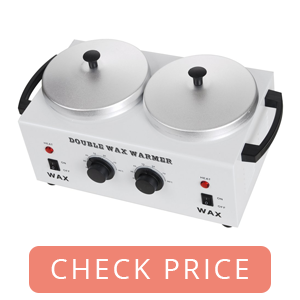 If the 14-ounce containers that come with most consumer-grade warmers aren't enough for you, then the Infeling double heater might just be the right choice for you. It is equipped with two 350-gram aluminum pots and one filtered container. This is the ideal electric waxing kit for small-sized salons or if you are one of those thoughtful ladies that love hosting hair-removing parties with your friends.
The kit includes the double warmer, one filter pot, four packs of hard wax beans, twenty applicator sticks, and a user's manual. The good thing about having two heating pots is that you can reuse any leftover wax over and over. You can just put in the metal filter before placing the used wax, and when melted, you can easily take out the hair and other bits of debris leftover from before. Hard wax is perfectly safe to reuse so there wouldn't be any issues at all!
The heating pot has independent temperature control for both sides that lets you heat wax from 32 to 176 degrees. You can use only one pot for small jobs like face and mustache area depilation, for example, or if you just want to do your armpits in one go. For bigger jobs, like your legs and bikini area, you can use the two heaters simultaneously. You can even set them on two different temperature levels if you're using different types of wax.
Overall, the Infeling is a solid product with a bigger heating volume than most waxing kits on the market. It is great for salon use as it comes with plenty of wax beans and tools to help you do the job. It offers a solid warranty as well so I do think that it is a very good choice kit, well worth your consideration.
5. BFull Hair Removal Kit – Great All-Rounder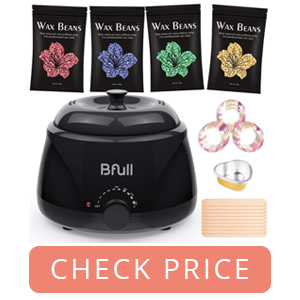 Claiming to provide a 99% success rate in removing unwanted hair is a very bold statement. The BFullh warmer kit does exactly that with great success too.
The BFull kit is one of the best-equipped waxing kits on the market. It comes with five separate 3.5oz bags of hard wax beans. It also comes with 20 applicator sticks and 50 fabric strips in case you need them when using the heater with soft wax, which is perfectly capable of. You can use the strips to clean the pot as well.
It is made of high-quality ABS resin and it is equipped with premium copper wires making it a very safe kit to use at home. It comes with temperature control that you can easily adjust from 160 up to 240 degrees temperature range. You can melt a small amount of wax or large batches for you and your friends.
The wax that is included in the BFull kit comes in mostly sweet-smelling scents—lavender, honey, rose, chocolate, and aloe vera. They are 100% FDA approved and are made with natural ingredients. Safe to use even by those with sensitive skin and those with allergies. They are safe, gentle, and won't irritate your skin.
6. Satin Smooth SSW12C Single Pot – The Professional Choice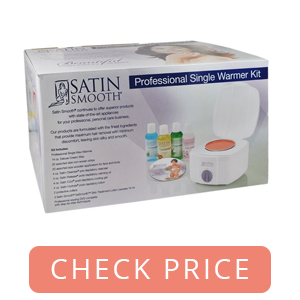 Designed for the professional salon, the Satin Smooth SSW12C is a high-quality and high-performing waxing warmer kit. Suitable for those with hair removal and beauty salons, the Satin Smooth can also be used at home with excellent results. The bundle includes a deluxe Satin Smooth cream wax, non-woven strips, wooden applicator sticks, cleanser, lotion, and an easy to follow step-by-step instructional DVD.
The SSW12C has a 14-ounce pot capacity and can melt a wide range of waxes. It has an independent warming pot that has a silicone-covered on and off switch. The temperature control has 10 settings that you can use depending on the wax and job that you have on hand.
The SSW12C comes with a 14-ounce Satin Smooth Deluxe Cream Pot Wax that can remove thick, coarse, or even curly hair. It is enriched with emollients that soften hair to make it easier to be plucked away. It also has moisturizers to soothe skin and make it softer and smoother after waxing. It won't rip your skin and it will protect the top level from irritation.
Whether you're a professional salon owner or a waxing enthusiast at home, the Satin Smooth warmer is an excellent choice that will do the job perfectly day in and day out.
7. Salon Sundry Professional Double Pot – When You Need More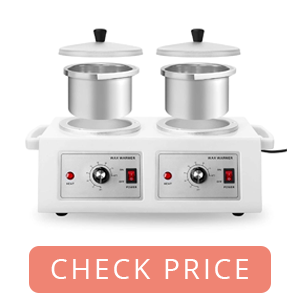 If you're an established professional doing multiple treatments daily, the Salon Sundry is probably the one for you. It comes with two separate heating pots that can take in more wax than anything on this list. It should be more than enough for depilating several clients per day in one go. It is sturdy, tough, and can be safely used all day long.
Each heater is made from high-quality materials and it is equipped with 150 watts of heating power. It has an adjustable thermostat control that will let you heat wax up to 176 degrees. Both pots are removable for easy cleaning and maintenance.
The Salon Sundry comes in a very basic package – a power cord, removable pots, two metal covers, instructions, a user manual, and a few spare fuses. The warmer doesn't come with waxes like most others on this list, but for professionals, this is actually a very good idea. Professionals have their own preferences when it comes to the waxes they want to use and no bundle gives them the freedom to use any type or brand of wax that they want.
Overall, the Salon sundry is an excellent double warmer suited for professionals, salons, and the like. It is built like a tank with durability in mind. Plenty of fuses too – there is rarely a risk of burning out or anything like that. The only downside, if it can be considered one, is that the covers are not see-through so you can't really see if the wax is melted unless lifting the cover and peek inside
8. Lifestance Hair Removal Kit – Another Great Unit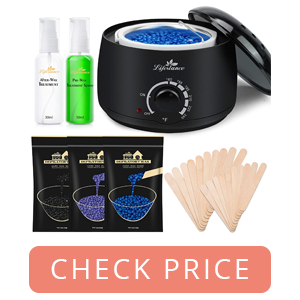 A very stylish-looking warmer, the Lifestance is one of the best-selling waxing kits on Amazon today, and for a very good reason too. It comes with three packs of hard wax beans and ten wooden spatulas for easy application. The warmer is made of premium quality copper and ABS heat-resistant materials.
The Lifestance kit has a 16-ounce pot capacity and it can heat up to 240 degrees. It automatically shuts down when reaching the highest temperature and can melt most waxing beans in just under ten minutes.
The three wax bean pack included in the Lifestance are all FDA approved and come in different flavors – chamomile, lavender, and black. They are professional-grade and, like all hard waxes, don't need strips to take them off. 
The heater has a variable temperature setting control that can heat and melt different types of waxes, whether hard or soft. The Lifestance is a versatile kit and it can be used both at home or at a salon. It is simple and easy to operate.
Overall, the Lifestance wax warmer is durable well put together. It comes bundled with great quality beans and it is a perfect companion at home or at the salon. It comes with enough wax and spatulas to start you off and keep you going for weeks. There is a good reason why it is one of the best selling warmers on Amazon, and it so many people like it – there must be a very good reason for it too.
9. Femiro Depilatory Machine – A really decent cheap unit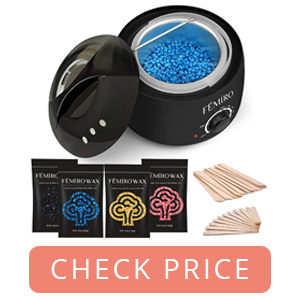 One of the most affordable warmers on the market, the Femiro is a high-quality product that won't break the bank. It comes with the features most commonly found on higher-end models without the high-end price tag. It does a really good job too.
The Femiro is made of 100% copper coil wires and sturdy ABS heat-resistant materials ensuring a durable and long-lasting product. It comes with a transparent cover that lets you see through the heating pot, so you'll know when the wax is melted and ready for use. The pot is removable for easy cleaning.
The Femiro warmer has a temperature control that is adjustable so you can easily melt different types of waxes. It can melt hard, soft, loose, bricks, microwavable, and many other types of wax usually in under ten minutes or less. You can have a salon-like hair removal treatment at the comfort of your home.
It has an auto shut off feature that turns the heater off when reaching maximum temperature. The front indicator light will let you know if the machine is working or not. Once it reaches 240 degrees, it will turn off and will turn on again in a few minutes to keep the wax nice and gooey – perfect for use.
Overall, the Femiro wax warmer is a great deal for most, especially if you're not a big fan of bundles and prefer to choose your own products rather than rely on bundles and stuff. You are free to choose the wax that you want to use, the spatulas and everything. The warmer is a good choice for freedom lovers so if you are one – the Makartt is definitely for you.
10. Honorable Mention – Lansley Warmer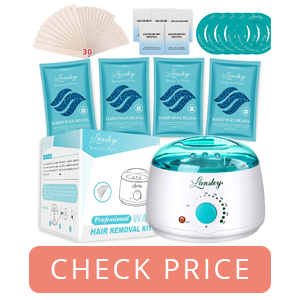 Lansley is the last, but not the least, waxing kit on review today. It has all the bells and whistles necessary to compete for a place on this list. The waxing kit provides salon-worthy softness and smoothness, making you feel like you've spent a day at the spa without spending whole lotta money too.
The Lesley wax warmer has the look and the feel of a professional-grade machine – it has an adjustable temperature control that gives you precise and reliable heating whatever the wax you are melting. Temperature ranges from 100 to 210 degrees and it can melt a 3.53-ounce pack of hard wax beans in just under ten minutes. Optimal results are achieved on a medium setting of 140 degrees to keep the wax in a melted consistency and ready for waxing.
The Lesley warmer is made of heat-resistant and non-flammable materials such as ABS resin and metal parts. It has a large capacity pot that can melt up to 17 ounces of wax. You can use any wax that you have available with the Lansley machine – soft, hard, block, and anything in between.
The Lansley wax kit comes with the pot, four packs of 3.5oz wax beans, and fifteen applicator sticks. The warmer is easy to clean and can be used to remove all types of hair, from the coarse leg and bikini area hairs to the fine peach fuzz on your cheeks and upper lip. The beans included can be reused for up to four times and will get rid of unwanted hair without causing any redness or irritations.
Overall, it is a worthy contestant for the best depilatory warmer choice. It is reasonably priced, comes packed with a lot of wax and applicators and overall, it is a very good choice for the money.
Frequently Asked Questions
Let's take a look at the most frequently asked questions about hard wax warmers, kits, and waxing in general:
Can I reuse the wax in the pot?
Yes, you definitely can. Turn on the wax warmer to reheat any unused wax and wait for it to melt. If there are any hairs or debris in it, you can filter them using a metal strainer. It is mostly considered safe to reuse wax up to four times. After four uses it will most likely become too contaminated with skin particles and hair to be effective for hair removal.
You can try it even further but that will be pushing it and it is definitely not recommended if you suffer from any skin-related allergies or you share the pot with other people.
Can I use these kits for facial hair removal?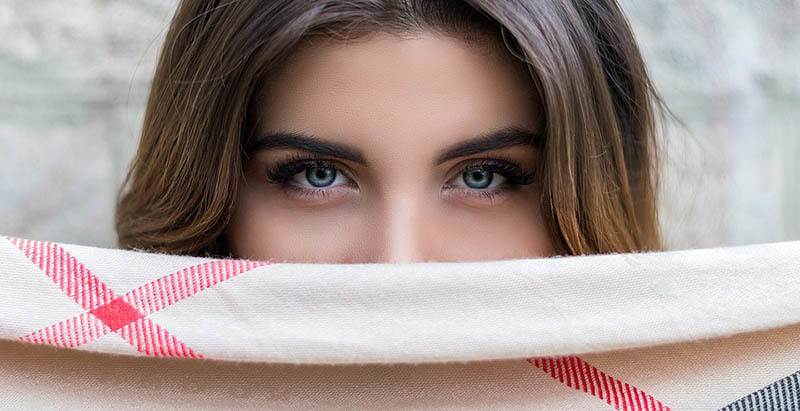 Yes, you can. Almost all waxing kits on the market, and especially the ones on this list, have accurate temperature control that will allow you to adjust the heating power of the warmer. You can heat different waxes depending on what type of hair you want to remove. You shouldn't use wax that is too hot on your face as you can burn yourself. Legs, however, are usually fine for hotter applications than the face. All that can be achieved with the right wax and the right temperature.
The fine hairs on your lip area, the peach fuzz on your cheeks and chin, and even your eyebrows can be removed using hard wax. Just be sure that you use the appropriate temperature and products for the specific application.
What Is The Optimal Heating Wax Temperature?
The ideal hard wax temperature for application is between 120 to 160 degrees Fahrenheit (~50°-70°C). That's why most warmers have a 140 degrees Fahrenheit (60°C) setting to keep wax at a melted state, ready for application and hair removal. Basically, the ideal temperature to keep your warm wax is at around 140 degrees, nice and melted, but not runny or crumbly.
Having a warmer is essential for achieving optimal waxing temperature – it is consistent heating and accurate temperature control that sets the industry standards.
Are Most Hard Wax Kits Free of Toxic and Harmful Chemicals?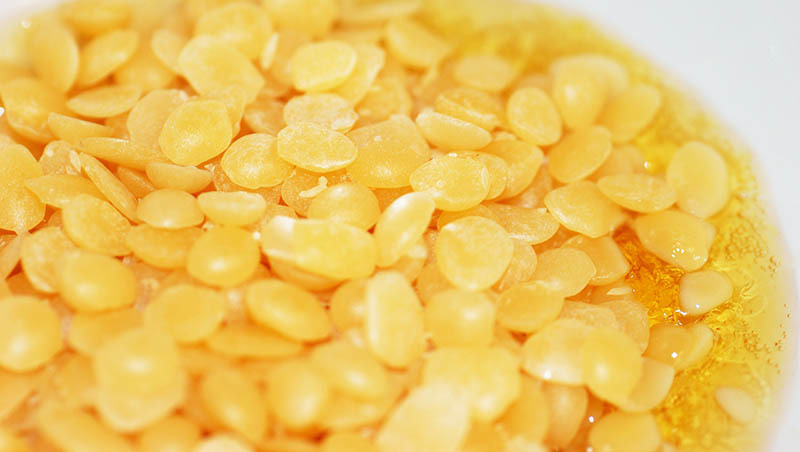 There is no definitive answer to that. While most name brands are 100% natural and organic, others aren't quite that clean. The terms 'non-toxic' and 'chemical-free' are also somewhat relative and open of interpretation.
Some companies claim using only natural or organic ingredients, but if you look closely at the labels, they also contain ingredients that are derived from non-organic sources. Furthermore, there are ingredients that can only be derived from non-organic sources but is an essential component in hard waxes.
We can never be sure if a product is totally free from toxins or harsh chemicals. What we can do is read labels carefully and do some research on what they are and if they can be harmful to you. Most reputable manufacturers will avoid using chemicals that can harm their buyers so when in doubt, look at the manufacturer's reputation.
Here are a few things you need to consider before using any sort of wax:
Check the label if there are any allergy advice and warnings.
Always do a skin patch test before applying the wax all over your body. Apply to a small patch first and see how your skin reacts to it.
Make sure that the wax isn't scalding hot. Check on your wrist before applying, especially on sensitive areas like your face, for example.
How To Take Care Of Your Skin After Waxing?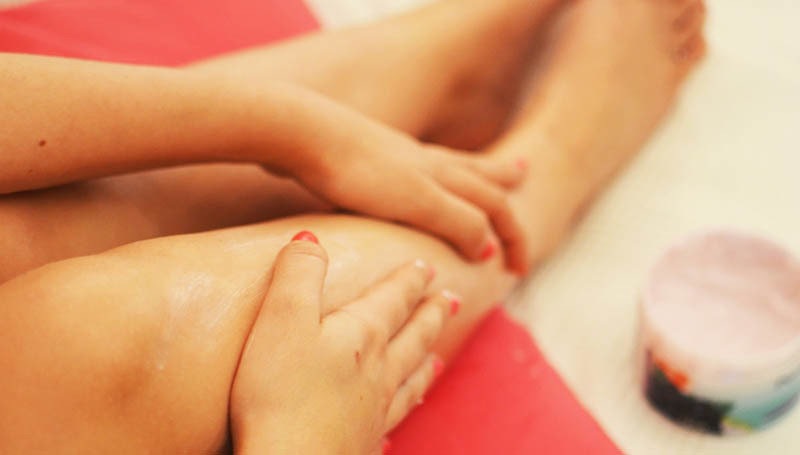 One of the most common problems you can encounter after a waxing session is the clogging of skin pores after depilation. Especially when you do your face – it can be a major issue. You don't need to despair as there really is something you can do about it.
To avoid clogging your pores after depilation, avoid using any heavy lotions or creams that can clog the pores, They are enlarged from the heat of the melted wax and you have to take extra care of them. The best way is to apply soothing skin – opt for ones that offer cooling effects to your skin. You can use lotions with aloe vera, tea tree oil, lavender, or witch hazel, anything that will calm your skin without too much fragrance and additives.
If you feel sore and you are worried about it, you can take a mild pain-reliever to ease the pain. It will also help relieve inflammation should you encounter it. You can also try applying a cold compress on the affected area.
Can I use different brands of wax in the same warmer?
Yes, you sure can.
However, it might not be a good idea to mix and match different wax beans during a single session. Different beans have different melting temperatures and depilatory properties so it is better to stick to a single type of wax for each session. Once you're done, you can mix or add another type of wax to melt, but as always recommended – test on a small patch of skin before applying.